Featured - Available Now!
Siege
Book 5, The Warrior Chronicles
The land has become unnaturally quiet. It's as if everyone is waiting for some sign that Xandre can be beaten. That someone will stand up to him, and win.
With Shanti calling the shots, and Cayan's battle know-how, it seems certain that the Chosen can be the catalyst. That they can lead the oppressed to freedom.
But Xandre didn't become the Being Supreme by chance, and he doesn't intend for his rule to be stripped away so easily. He has already started to gather his forces, and with the entire land under his control, gaining a foothold against him seems impossible.
The final battle is brewing, and the winner is anything but decided…
Now Available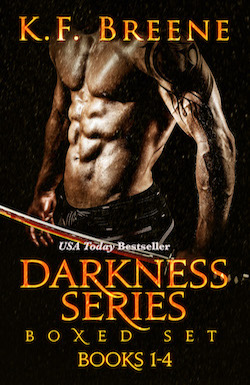 Darkness Series Boxed Set
Books 1-4
Experience the roller coaster adventure as Sasha confronts a new world full of magic, mayhem, and love. Follow her journey from an orphan who lost everything, to one of the most powerful mages in the nation. By Stefan's side, an alpha male who rules his clan with an iron fist, she will battle for her place as a Black mage, and leader's mate. This thrill-ride will leave you breathless and begging for more!
Books 1-4 are included in the set: Into the Darkness, Braving the Elements, On A Razor's Edge, and Demons.